20151227SUN

supported by ONEPARK ESSENTIAL 20 Anniversary "shout soul by" final day! Yasu Namade Parents and children two generations!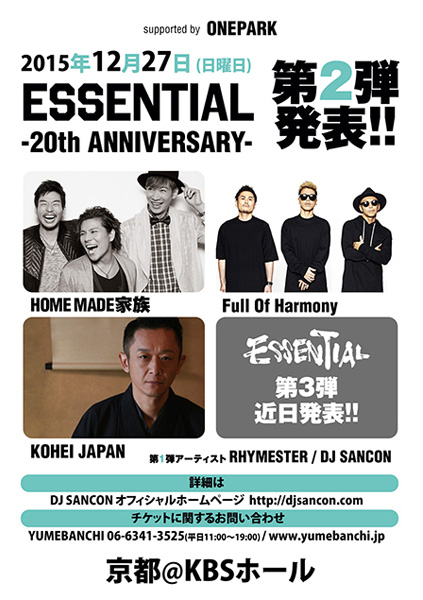 @ Kyoto KBS Hall
OPEN
Doors open at 13:00
Curtain 14:00
ENTRANCE
ADV ¥ 4,500
DAY undecided
* Is required separately beverage when you admission.
* Elementary school students more than necessary ticket. Free admission Allowed preschool children only accompanied by an adult
First series GUEST announcement!
RHYMESTER
Second edition GUEST announcement!
HOME MADE family
Full Of Harmony
KOHEI JAPAN
& Lt; third installment GUEST is 10/19 21:00 announcement & gt;
■ Official preceding start accepting!
Acceptance URL: http://eplus.jp/e20th/ (PC & amp; mobile)
Acceptance period: 10/2 (Fri) 21: 00 ~ 10/16 (gold) 23:00
※ within the acceptance period, access to the reception URL, please apply.
※ To apply for membership registration of e + (e +) (free) is required.
※ The application is a first-come, first-served basis. Soon reached the scheduled number, we will terminate the reception.
Inquiries about ticket
YUMEBANCHI
06-6341-3525 (weekdays 11:00 to 19:00)
KBS Hall
Yubinbango602-8588
1 of Kyohei Fujisawa Karasuma communication Ichijo under Le Tatsumae cho 600 address
(Aka: top Kyohei Fujisawa Karasuma Chojamachi)